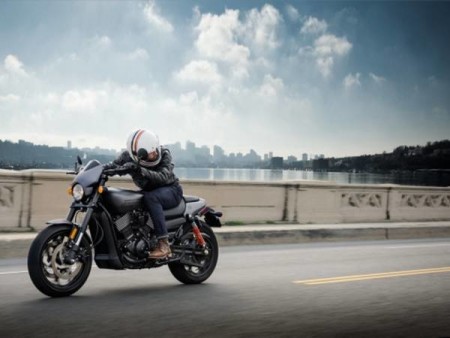 Riding a motorcycle offers a feeling of freedom, and part of that feeling comes from knowing there's nothing between you and the landscape. But if you get in an accident, you'll want every bit of protection you can get, and to have the right helmet is the best piece of safety equipment you can have on your side.
Choosing the right helmet comes down to finding a model that's well-built, that fits your head, and that has been shown to hold up in crashes through extensive crash testing. This short guide will teach you about these qualities and hopefully help you navigate the sometimes-confusing world of motorcycle helmets.
For all your motorcycle needs, stop by Abernathy's Harley-Davidson®. We carry a great selection of new Harley bikes from America's most iconic motorcycle manufacturer at our Union City, Jackson, Paducah, and Cape Girardeau, Tennessee locations.
Type of Motorcycle Helmet
There are almost as many styles of a helmet as there are styles of a motorcycle on the road today. It's important to know that these helmets won't all perform well in an accident. Some helmets are manifestly superior to others.
For the most part, motorcycle helmet styles are differentiated by the amount of the head that they cover. Half helmets cover the least area and are mostly designed to cover the top of the head and part of the back of the head. They usually feature a chin strap to secure the helmet in place. In hot climates, they're more comfortable due to their increased air flow. The next step up in coverage is a three-quarters helmet. These helmets extend down, covering the back of the head, the ears, and sometimes part of the jaw. They have an open face, making them feel more open. Full face helmets are the best option in terms of safety. They cover the entire head, including the chin, which is one of the areas most susceptible to causing brain injuries in crashes.
Recently, modular helmets have become more popular. This type of helmet can open up to expose the face for some riding situations, or close over the face with a protective chin bar. They're also helpful because you can eat and drink while wearing them. Their crash test ratings can vary greatly, though.
Fitting Helmets to Head Shapes
It's important to find a helmet that fits your head correctly. A model might be perfect in terms of style, construction, and crash test rating, but if it doesn't fit your head correctly, it won't perform correctly. Human heads have an ovular shape, but some heads are much more round and others are much more oblong. Knowing your own head shape will help you narrow down the field of potential choices.
Crash Testing
Many helmet manufacturers submit their helmets to independent crash test rating agencies to determine the durability and safety of their helmets. Make sure the helmet you buy has been approved by one or more of these organizations. Snell has some of the most rigorous testing procedures, so go with them if possible.
Road Performance
If a helmet doesn't work while you're riding, it's not going to be a good choice—even if it fits well and works in every other way. Make sure you keep your receipts and are ready to return your helmet if it limits your vision or is uncomfortable to ride with.
Buying a helmet can take some time and patience, but it's one of the most important decisions a motorcycle owner will make. If you need more tips for finding a good helmet, stop by Abernathy's Harley-Davidson®. We ride motorcycles ourselves and we're passionate about helping our customers find the equipment they need. Stop by one of our locations in Union City, Jackson, Paducah, and Cape Girardeau, Tennessee today!