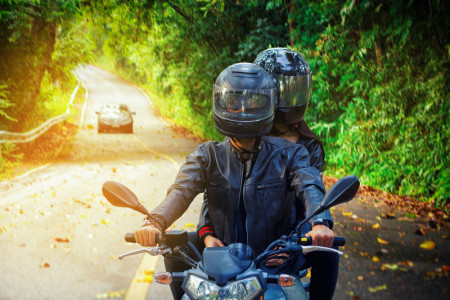 For most people in the United States, cars are their primary means of transport. Highways, interstates and city streets have all been constructed around passenger car traffic, and you can see the flaws of car travel any time you hit rush hour traffic or a slowdown caused by construction or inclement weather. The sheer size of cars as well as their general expense can mean they aren't necessarily the best way to travel, particularly for long commutes.
If you find yourself wondering whether a motorcycle might be a better means of transit around town or even on a long trip, this guide is for you! Created by Abernathy's Harley-Davidson® of Union City, Tennessee, this breakdown of the benefits of riding a motorcycle will help you make a decision. When you're ready to take a look at some excellent Harley-Davidson motorcycles, you'll want to pay us a visit!
Save Money
One very obvious and immediate benefit of riding a motorcycle over driving a car is how much money you'll save. Motorcycles themselves are cheaper to buy than a car, and they also get better gas mileage, so you'll also save at the pump, which is important as gas prices continue to rise. Finally, their maintenance and insurance costs are also lower, so you'll save a bundle when you make the switch!
Get More Performance
Motorcycles handle much differently than cars do, owing to their lighter weight and handlebar steering. This means you'll get faster acceleration, a better power-to-weight ratio and much tighter turns, which you can't really get on a passenger car if it's not a luxury sports car. You can have a high-performance ride that's smooth and easy on a motorcycle, particularly a Harley bike!
Access The Harley-Davidson Community
When you're the proud owner of a Harley motorcycle, you'll be able to join the Harley-Davidson community! This gives you access to special motorcycling events, local chapters for riding groups, shows and races. You can chat with fellow motorcycle fans and swap maintenance or upgrade tips and find friends who can join you on rides. Try getting all of that when you buy a new car!
Find Parking More Easily
Anyone who's ever driven a car to a crowded downtown area or historic district knows what a pain it is to find a parking spot, particularly on a sunny weekend or during an event or festival. You'll either have to find a narrow space to parallel park, shell out several dollars to park in a special lot or garage, take public transit or park very far away and walk to wherever you need to be. With a motorcycle, parking is a cinch. Their narrow frame fits easily into a space a car does not, so chances are good that even if it seems like every parking space is taken, you'll find a few square feet to safely park your Harley bike in. Not only does this benefit you when you're out and about, but you'll have much more space at home when you can slip your motorcycle into your garage or shed without taking up the entire space.
Lower Your Carbon Footprint
One final incredible benefit of riding a motorcycle instead of driving a car is the impact you'll have on the environment. Specifically, you'll lessen the amount of emissions you're putting into the air because your vehicle is much smaller and more fuel-efficient. A motorcycle doesn't take up nearly as many resources to construct and it doesn't wear down roads as much as a car does, either. If saving the environment and being more green is important to you, then it's time to trade in your car for a bike.
If we've convinced you that a motorcycle is the way to go when it comes to personal transport, then you're probably itching to check some out! Visit our location in Union City, TN, to see our full selection of new and used Harley bikes for sale. Abernathy's Harley-Davidson is conveniently located near Jackson, Paducah and Cape Girardeau, and proudly serves customers throughout the state of Tennessee.